Our Management
Loveland and Berthoud Life Centers Are Owned and Operated by House of Neighborly Service.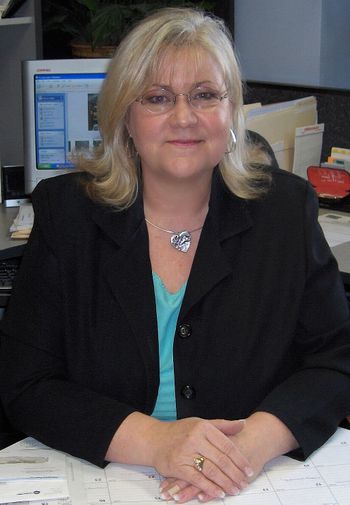 House of Neighborly Service has used the model of shared space facilities for over 30 years. The benefits to clients and organization are invaluable-it's a WIN, WIN for impact and capacity that adds to the overall health of a community.
Loveland's HNS Life Center is a Community Center with rooms available to rent for parties, meetings and conferences.
Glorie Magrum is the Executive Director of House of Neighborly Service and the HNS Life Centers in Berthoud and Loveland and has been with the organization for 20 years. She is a graduate of Long Beach City College and Eagle Rock University Long Beach. She worked at Hewlett Packard/DCD Ft. Collins and Loveland's Reporter Herald Publications before joining the House of Neighborly Service staff in 2001. Glorie received the United Way "Collaborator of the Year" award in 2010, Loveland Rotary Club's "Community Member of the Year" award in 2012, and the Leadership and Service Award from the El Pomar Foundation's North Regional Council in 2018. She is an active member of the Larimer County VOAD (Volunteer Organizations Active in Disasters), co-chaired the Larimer County Long Term Recovery Group following the 2013 flood, and serves on the Board of Directors of King's Kids Africa, and multiple community committees.
History: HNS was established in 1961, when multiple churches came together with the united vision of creating a central location to meet the needs of families and individuals facing crises. Life Centers are a greater extension of this vision, creating greater impact and accountability to those being served, and providing a place where the entire community can get involved through contributions and volunteerism.
House of Neighborly Service and the Life Centers of Loveland and Berthoud are governed by a Board of Directors representing a diverse group of compassionate and caring people. They give their valuable time, business and professional expertise, support HNS and the Life Centers with financial and personal commitment, and act as ambassadors to promote our mission. Board members are also listed on the HNS website: honservice.org
Ben Aste
Business Owner - Uncle Benny's
Tayler Besch
Personal Banker - Independent Financial
Kevin Cox - President
Business Owner - CorKat Data Solutions
Amy Hallagan
Professional Coach - Exubero Coaching
Kevin LeMaster
Business Owner - EnviroPest
Camilla LoJeske - Secretary
Educator; Retired - Community Volunteer
Jeff Morris
Business Owner - Colorado Roof Source
Steve Mulvihill
Retired - Mayor of Berthoud
Joel Pancoast
Pastor-Zion Lutheran - Police Chaplain
Howard Wenger
Retired - Education Administration
Bronya Wilcken
Real Estate - Premier Lifestyle Realty
Glorie Magrum
Staff - Executive Director