Berthoud Capital Campaign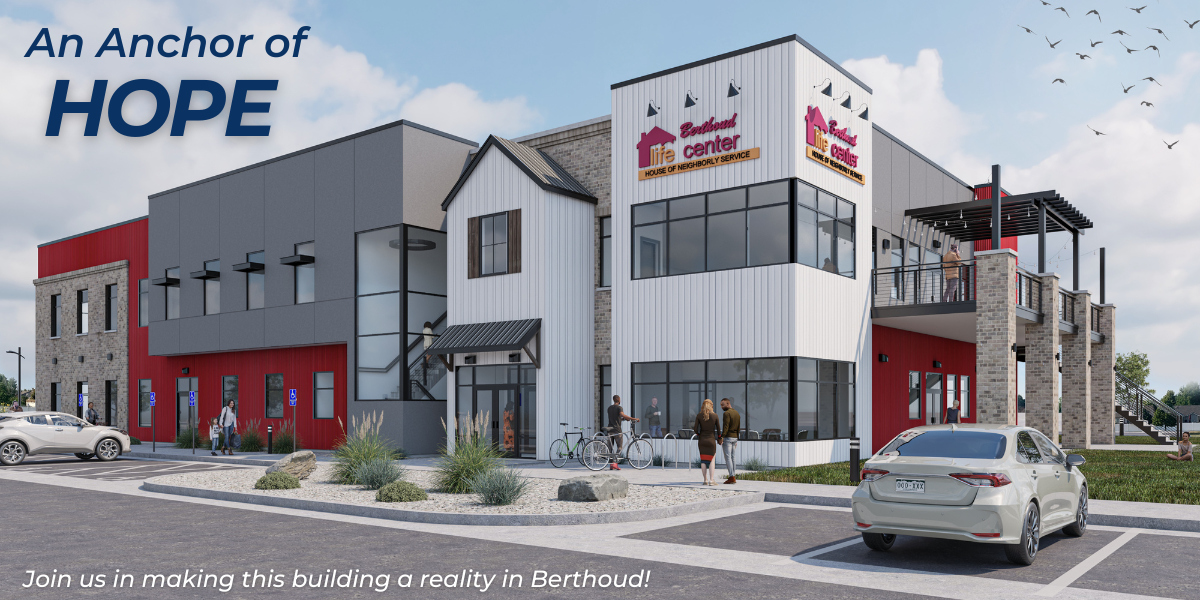 COMMUNITY | RESOURCES | VISION
The core concept of the Life Center is a multi-use "one stop shop" where families and individuals can get all the services they need. People can access food, clothing, rental and housing assistance, education, and other basic resources to help them become independent.
What's more, we envision people from all walks-of-life benefiting from the Life Center. Volunteers, seniors, teenagers, new moms—all are welcome to attend a class, see an art show, or celebrate the milestones of life.
The Life Center is a place where everyone is valued: a place where we can turn in times of abundance and times of need. It is a space and a support for our community—an anchor of hope.
SERVING THE BERTHOUD COMMUNITY SINCE 1989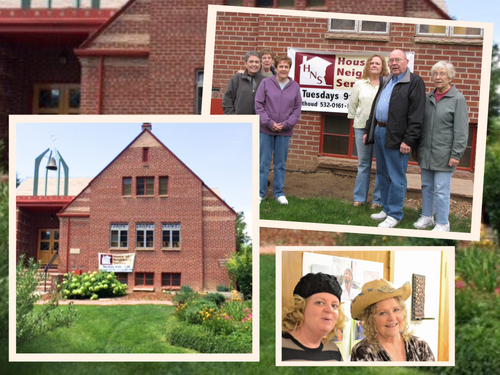 House of Neighborly Service Berthoud opened in March 1989 at the First Presbyterian Church. We were there for 28 years serving the community on Tuesdays.
In 2017, our last year at First Presbyterian Church, we had 498 visits.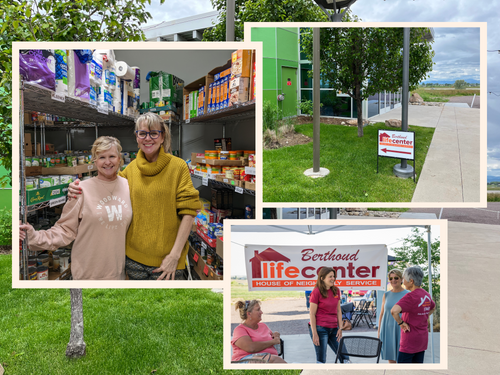 Conversation began in summer of 2015 to enhance the Berthoud HNS Office into a Berthoud Life Center. Throughout 2015-2017, discussions were held with other non-profit organizations regarding their physical presence in Berthoud. In October of 2017, HNS moved its office to our current host church - Grace Place - to accommodate multiple organizations, thus the Life Center began.
With the rapid growth in Berthoud and increasing need, in 2018 we expanded our days of operation from one day a week to two days a week (Tuesdays and Thursdays).
We had 2,141 visits in 2022.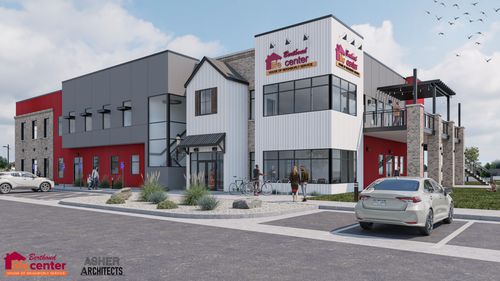 HNS purchased property, within Berthoud Commons, in October 2021 to build the planned Berthoud Life Center (right behind Ziggis, O'Reilly Auto Parts, and 7-11).
The Berthoud Life Center will be a hub of activity for youth, seniors, individuals and families, as well as, providing space for up to 10 non-profit agencies to bring additional resources to the town. The Berthoud Life Center will also have meeting spaces to reserve for events, business meetings, education and more.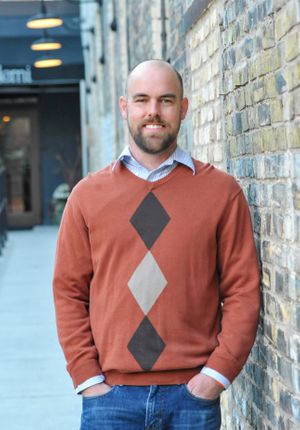 "House of Neighborly Service is a wonderful gift to Berthoud residents. Providing necessary services to our residents in need and providing offices to our non-profits, meeting spaces for the public, and most importantly the services our residents need. I'm so excited for a larger facility and I hope you join me in giving what you can to make this a reality."
-WILL KARSPECK, Mayor the Town of Berthoud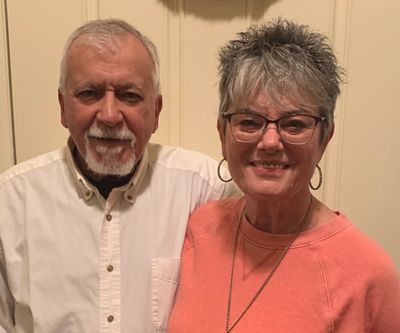 "Deanne and I have always tried to support House of Neighborly Service. The Berthoud location has done a tremendous amount of good in our community for hundreds of our Berthoud residents and neighbors. The opportunity to build a Life Center in Berthoud for our community is a very exciting project. This project will strengthen our community and make available needed resources for our families, young people, and seniors. We hope you will join us in support for such a worthwhile addition to our loving Town. HNS is the glue that will help bring together existing and new resources that will benefit our Town now and in the years to come. Talking about helping our neighbors is one thing, actually doing something that strengthens our community is another. Be kind, Be compassionate, Be understanding, Be helpful, Be supportive, Be blessed, BE BERTHOUD!"
- STEVE AND DEANNE MULVIHILL, Former Mayor of Berthoud and Former Executive Director of the Berthoud Area Chamber of Commerce
Contact us for more information or to set up a presentation
Jinger Tomassi – Assistant Director Berthoud
970-532-0161